Tell us a little about yourself
I am Reis, an architectural technologist graduate who has always had a passion for construction. I work as a Trainee Site Manager with UKWS.
Tell us about working at UKWS?
It is great being a part of a company who shares the same ethos and values as myself. Working for UKWS is both exciting and challenging, they give me the opportunity to express my passion for construction, whilst presenting me with new situations in-order to develop my understanding. They care about their employees and the projects they deliver, something which makes me proud to be a part of.
What does a typical day look like for you and what are you currently working on?
I would argue that there is no such thing as a typical day with UKWS, the projects we work on are dynamic, engaging and allow you the ability to develop your understanding. It can be anything from, collaborating closely with our skilled management team and coordinating with our subcontractors, to managing finances and overseeing the quality of the design. I am currently working on units in Bloxwich, which has me at the epicentre of what UKWS excel at.
What is the most interesting element you have worked on?
Working on units 2 & 3 of our current project has helped develop my technical understanding and really emphasise the detail and quality that goes in these projects. It has been interesting to delve into the design details, process, and specifics of my role as a Trainee Site Manager.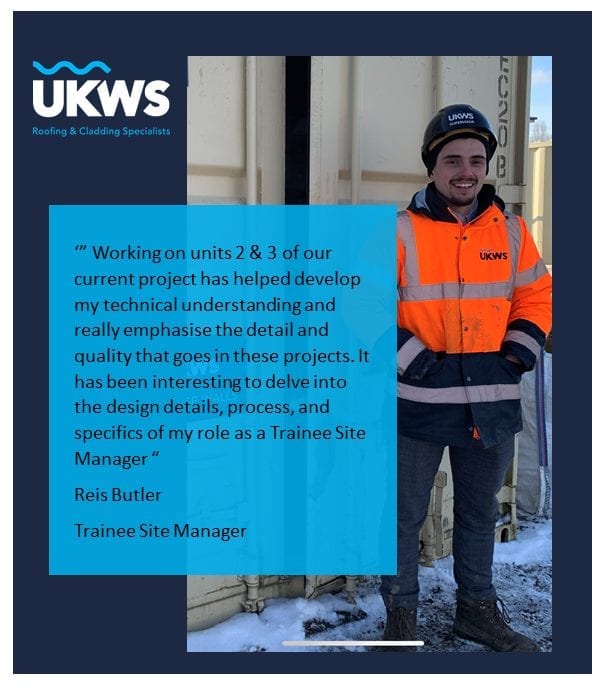 What is on your wish list for your next five years here?
I intend on developing a long and established career with UKWS, who provide everything you need to develop and the opportunities available are excellent. Coupled with that, my colleagues are also excellent professionals, as they offer great support and want to extrapolate the best of you.
Advice for people wanting to join UKWS?
Go for it, I would not hesitate to apply! Excellent company who genuinely care for what they do and who they employ.
Reis Butler – Apprentice Site Manager